The SD range of submersible dewatering pumps have proven themselves to be extremely durable and reliable under tough field conditions. Their very long work life and easy maintenance mean that you can rely on them for your toughest jobs. They are completely constructed with investment cast Stainless Steel for durability. These pumps are available in 50Hz and 60Hz models.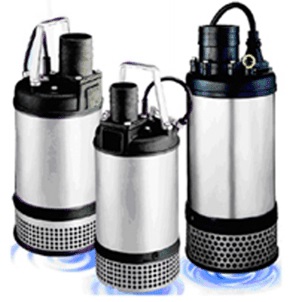 Features
The pump provides more overall efficiency, more discharge at rated power.
The ductile iron motor components are vacuum oil impregnated.
The stator winding is cooled by high viscous, non-electric conducted oil.
The pump is assembled with very tight tolerance between the parts. All joints are sealed by high temperature silicone base sealant.
All fasteners and strainer are made of stainless steel.
All pumps are light weight and portability when compared to similar competitive pumps.
Summary
Pumps available in both 50HZ & 60HZ with the same hydraulic performance.
Standard squirrel cage induction motor oil cooled type F' class insulation.
Both upper and lower bearings are pre‐packed with special high temperature grease.
Shaft is sealed by duel mechanical seal with oil bath cooling.
Semi open radial vane SS impeller with standard diffuser.
Suction end is covered by SS strainer and bottom plate. On request of base mounting will be provided.